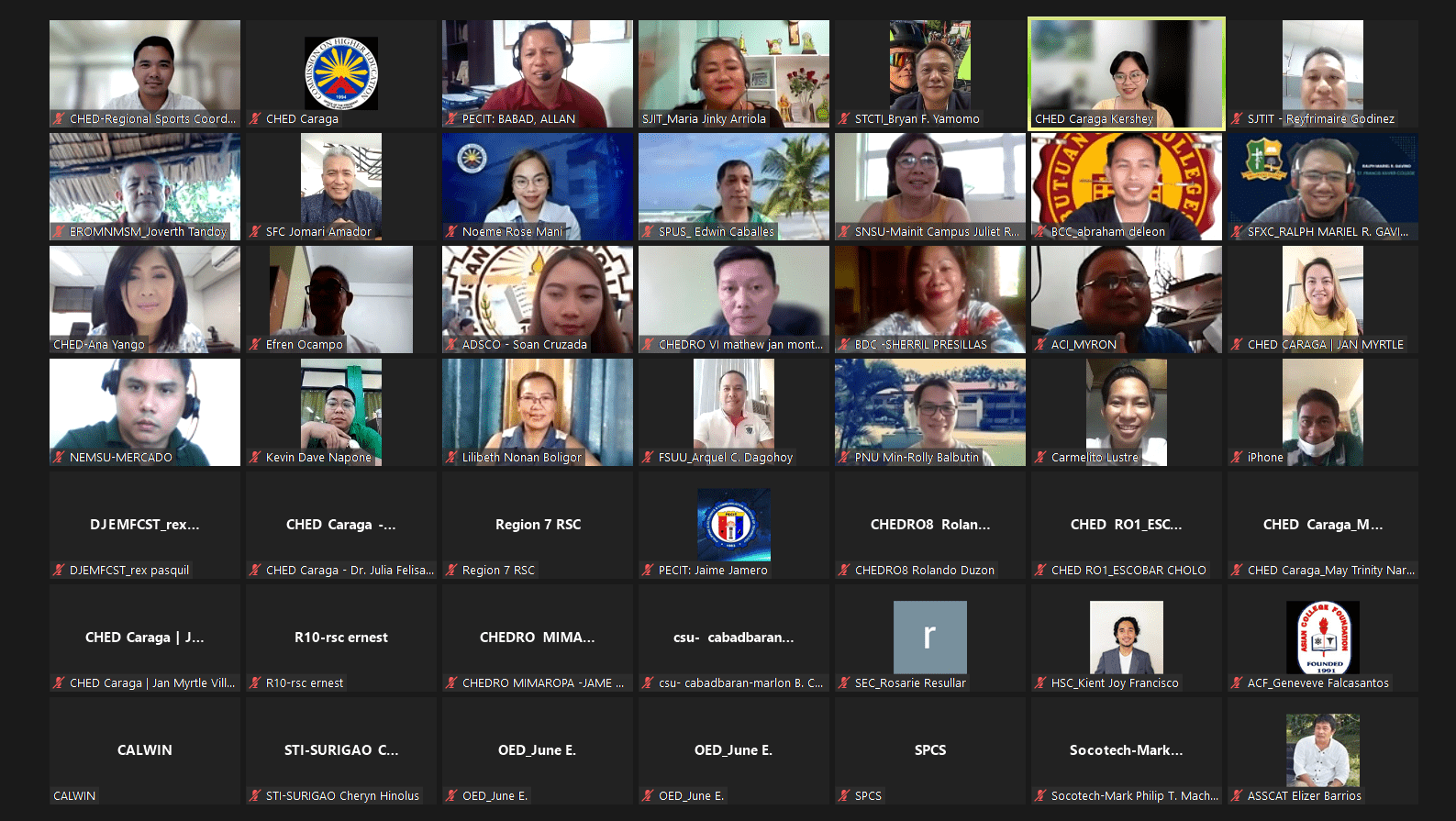 292548309_1245726472632208_7571532352424526023_n
297513402_389582459972686_2317807025514957652_n
The Commission on Higher Education – Caraga Regional Office (CHED Caraga) held an onsite Training and Workshop in the Implementation of CHED-Philippine Anti Illegal Drugs Strategy (PADS) of HEIs in Caraga Region from June 23 to 24, 2022 at the Grand Palace Hotel, Butuan City.
The activity was participated by the PADS focal persons and Guidance Counselors of HEIs and featured resource speaker Ms. Grace Monocillo, the Director of the Center Against Illegal Drugs at Ateneo de Davao University.
To begin the program, Education Supervisor II Mr. Amy Saavedra acknowledged the attending participants representing each HEI. Chief Education Program Specialist Dr. Julia Felisa Martinez gave a welcome speech for and on behalf of Director IV Dr. George Colorado, who was attending to an equally important engagement at the time of the activity.
Ms. Monocillo gave a whole-day discussion on the 23rd discussing the need and relevance of formulating and implementing PADS in Caraga HEIs. During the morning session, she gave an orientation on the Executive Order (EO) No. 66, series of 2018, otherwise known as the "Institutionalizing of the Philippine Anti-Illegal Drugs Strategy (PADS) and related laws, CHED policies and guidelines). This was followed by an open forum to attend to the questions and concerns of participants.
In the afternoon, Ms. Monocillo gave a discussion on the best practices for the implementation of PADS in higher education, also followed by an open forum.
The next day, Ms. Monocillo and CHED Caraga personnel oversaw the workshop wherein HEI PADS Focal Persons formulated their own strategies for implementing PADS in their respective HEIs, following the information and insights provided by Ms. Monocillo during her orientation. Chosen Focal Persons representing each province in the region presented their proposed strategies to the audience for feedback and knowledge sharing.
The following were the HEI PADS focal persons who presented their draft proposals for the implementation of PADS in their HEIs: Agusan del Sur State College of Agriculture and Technology (ASSCAT), Agusan del Sur College (ADSCO), Butuan Doctors' College (BDC), Father Saturnino Urios University (FSUU), North Eastern Mindanao State University – Main Campus (NEMSU Main), Northern Mindanao Colleges (NORMI), Saint Michael College of Caraga (SMCC), Siargao Island Institute of Technology (SIIT), STI College Surigao (STI Surigao).
The activity was conducted in pursuance of the EO No. 66 s. 2018 stipulating that "all government offices, departments, bureaus, agencies, and offices, including government owned or controlled corporations (GOCCs) and State Universities and Colleges (SUCs) are directed to implement the said anti-illegal drugs strategy through its projects and programs in accordance with their respective mandates and encourages private and civil society organizations to actively support the same."