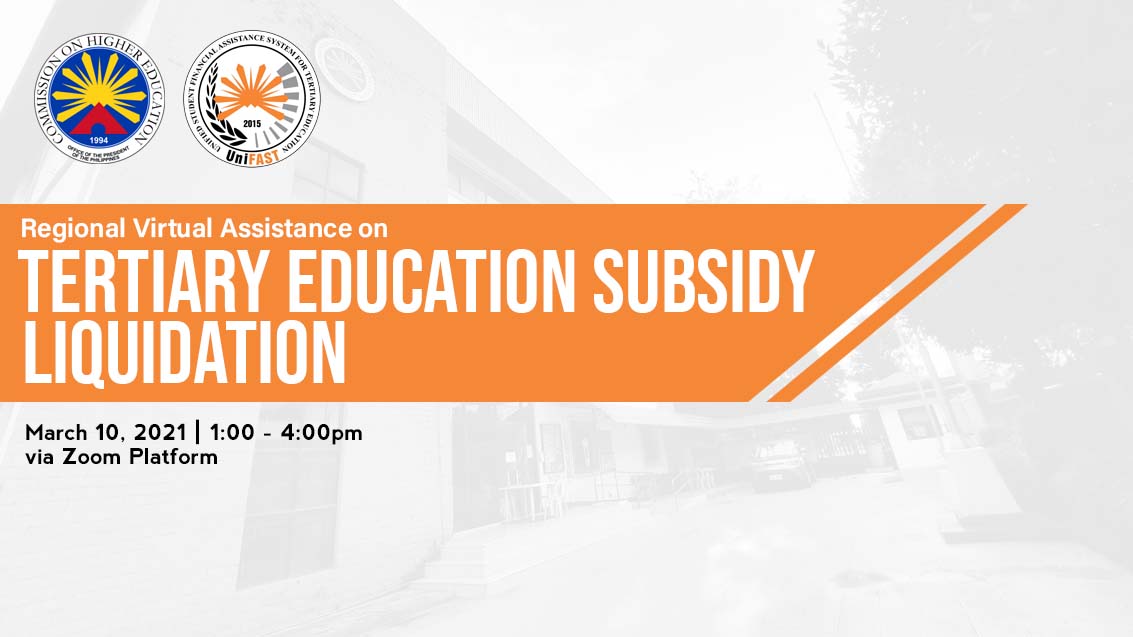 The Unified Student Financial Assistance System for Tertiary Education (UniFAST) Team in coordination with the Commission on Higher Education (CHED) – Caraga Region conducted the Regional Virtual Technical Assistance on Tertiary Education Subsidy (TES) Liquidation on March 10-12, 2021 via Zoom Cloud Meetings.
The activity aimed to discuss on the guidelines, templates, common Admin Support Costs (ASC) of TES liquidation reports, and updates on the findings and observations, and status of TES liquidation for Private HEIs. It was also intended to answer and clarify some issues that Caraga HEIs encounter during the processing of liquidation reports. For the last academic years, the benefits for SUCs and LUCs were disbursed by the UniFAST Central Office. For 1st Semester AY 2020-2021, the funding for continuing grantees is with the Regions, in accordance with provision XI.5. of CHED-UniFAST-DBM Joint Memorandum Circular No. 04, series of 2020, that is why this technical assistance is important especially for the SUCs and LUCs.
Regional Director Leonida S. Calagui, in her welcome address, gladly thanked the presence of the online participants despite the pandemic and expected that by the end of the discussions all their questions and doubts will be clarified and answered. She then mentioned the roll-out of vaccines, hoping that this will be the solution to get everything back to normal the soonest possible time.
The UniFAST team is committed to play greater role in catering the needs of the grantees and the HEIs as well. There may be additional responsibilities, but the team is always ready to take on these challenges.